Today I am going to do my best at showing you the tattoos I have in my body. I am not going to talk too much about all of them, but I will explain how old they are, or if I made them or not. I thought it will be cool to show you the art I choose to have in my body, but I know it is hard since it has become one big tattoo.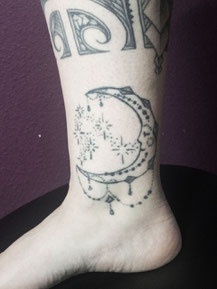 This one on the left was my first attempt to the art of tattooing. I wanted to do it in a place where I could hide it because I wasn't sure how it would go.
I regret the place just because my back started to really hurt and my muscles felt stuck. I am here "laughing" just remembering it.
It was hard to tattoo because I didn't know how to sit anymore so I could finish it.
This was my second attempt, I know it a bold move isn't it? As you can see it is not finished (since 2016), and I don´t have plans to do it soon.
It needs to be retouched and arranged. And again, I think this place is worst than where a placed my first attempt.
I am not sure if I can go through some shading on this one, I think in the end my body hurts more than the tattoo itself.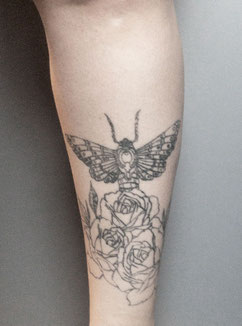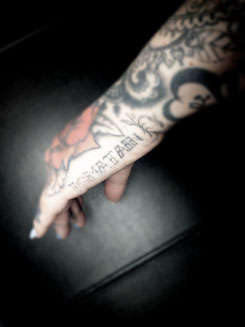 First things first, the meaning of this tattoo is: "I got me and that´s all I need". A lot of people ask me that so here is the answer for everyone to know.
There is not much to say about this one.
Another one from 2016 around the same time as the others. As you can see it blew and this year I tried to fix it a little bit because I want to keep it no matter what.
This sentence is Portuguese and it means "I love you from here to the moon". The lettering I choose at first was not the best one because of the letter D that wasn't pretty. So I tried to change it and that´s the result (ahahah).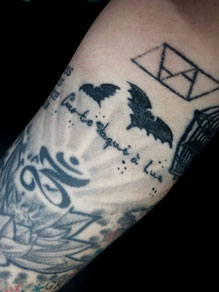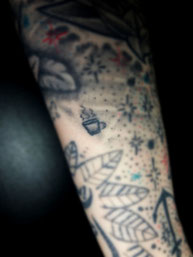 This one I did just to fill and because I love coffee. That is my honest answer, there is no other reason behind it.
From 2016. This one needs also to be finished but I just put some shadow around it and it was all. I don´t think I will touch again on these old ones myself. 
I really like doing this and wasn't too difficult as everybody thinks, it was a nice placement.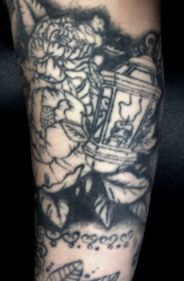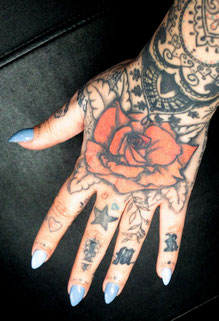 Then I did this rose on my hand. In 2016 I did the outlines, and put some color on it at the end of 2017. But the color hurt a little bit so I rushed it (ahahah). I need to find the time to tattoo more color in it.
The leaves I didn't even dare to start, because I knew I wouldn´t finish it.
This is just the word "strong" because I am one of those people that needs to be remembered that I am strong enough. 
The sentence "sei tapfer" on my finger is in German. It means "be brave". 
"Love" was also one from 2016, of my first attempts. Love means love.
The skull has no meaning, I just find it cute.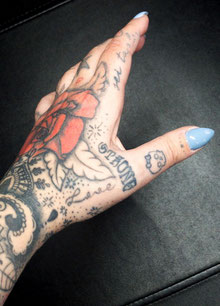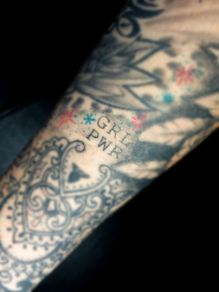 This tattoo was actually made to try a new needle that I bought to do fine work like this one. I always wanted to tattoo GRL PWR but with this number 1 needle.
And the meaning of it I think everybody knows.
Another one with a single needle.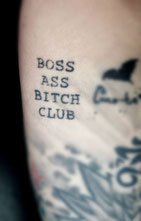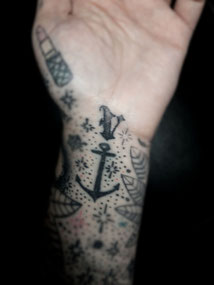 This is a "V" I wanted to tattoo it is meant for the word "Vida", that means "life" in Portuguese.
The anchor was not my work. I did it in Portugal with my husband a few years ago, we both have the same anchor.
This was another work to experiment with the new color I got. I know the placement is not too good for colors to stay, but I needed to try it in a place I could tattoo my self. I wanted to see how they would look. I know now you can´t actually see it, but they are really pretty. Just not in the hands.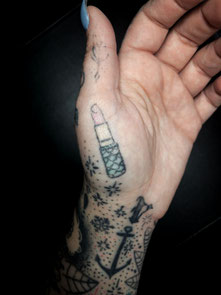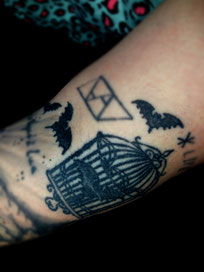 I always wanted a tattoo with a cage and a bat tattoo, so I thought why not bats in a cage? And there you have it!
Di is my goddaughter (Diana). The heart was not made by me and  "irmãs" means "sisters" in Portuguese. The sisters tattoo i made with my 3 best friends in Portugal. And I added Diana in the middle.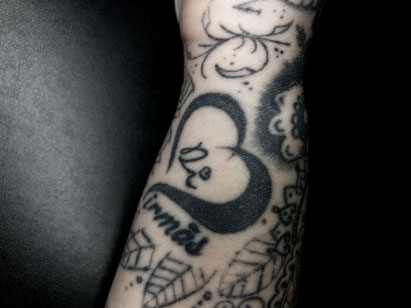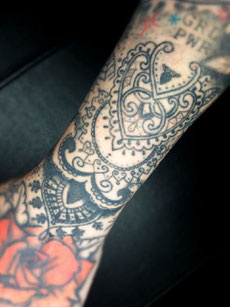 This mandala was made by another artist, and two years later I retouched it, made some changes and put some color too.
This is just a sentence that is true.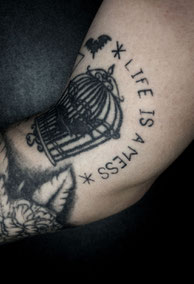 From here none of these tattoos are my work. These were done by other artists.
I hope you enjoyed to see most of all my tattoos. As you can see by these photos I have a lot of small ones that are useful to fill the gaps in between bigger pieces. Like dots, stars, plants, and hearts.
---