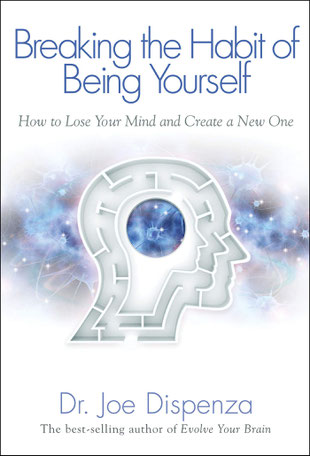 The first book i will be talking about in my Blog is from Dr. Joe Dispenza "Breaking the habit of being yourself". This book is complex, and i couldn´t explain it better than him, it goes deep into the mind and in the way we act how we act, do the things we do and say the things we say. Everything es scientifically explained and gives you an inside perspective of how the brain works, how can we control our thinking and behavior to achieve the person we want to be and the life we want to live.
So you can have a better idea of what i am talking about i will quote some information in the book, this way you can decide if you want to buy it or not (i hope you do!). At the end of this post, i will leave a link where you can purchase the book.
As Dr. Joe Dispenza said in the book: "When our brains are healthier we can make better decisions (...) which helps us to be more successful and live longer". Bad/negative thinking can affect our brain. The idea of this book is to help you "build a realistic working model of personal transformation to understand how we can change."
Basically, your external world should be a reflection of your inner world, through your thoughts. The point is you need to evaluate what do you believe to be true? Because "true empowerment comes when we start to look deeply at our beliefs".
The book also approaches the fact that human beings need something to happen in order to make positive changes. The majority of the things we do and how we do them are part of us because we learned them for years and years (non stop), that is why is easy for us to be how we are right now. After so many years being in a certain way, it is normal that we find it difficult to change and to change takes time and a lot of effort, only "the habit of..." can make us change and stick to it.
"Repetition reinforces the circuits in your brain and forms more neural connections so that in your weakest hour, you don´t talk yourself out of greatness."
_Dr. Joe Dispenza
To change you need to be greater than the physical things in your life. You need to redirect your attention to where you want your energy to go. " Energy is responsive to mind (...)".
In the book, waves, particles and atoms will be discussed. That will be the ground for you to understand in a scientific matter. Because that is basically what it is. I will not write about all the details because you need to read it to understand it all. Dr. Joe also writes about scientific studies so you have references and proof.
"The quantum field responds not to what we want, it responds to who we are being."
_Dr. Joe Dispenza
The change, begins with the choice of being different (inside), being better. "The brain reflects everything we know in our environment, that we have been exposed to throughout our lives in the form of knowledge and experiences...".
"Neuroscience has proven that we can change our brains - and therefore our behaviors, attitudes, and beliefs - just by thinking differently (in other words, without changing anything in our environment.)"
_Dr. Joe Dispenza
To be a different and better person the truth is that you need to change your personality (personal reality...got it?). Obvious,  that is not something you do in one day, you need to evolve, to learn, to search for more knowledge in order to grow as a greater soul.
"To change your personality, you need to change your state of being, which is intimately connected to feelings that you´ve memorized."
_Dr. Joe Dispenza
Normally  your body responds to your unconscious mind, meaning that it does whatever your mind is used to/have leraned through habit. That is why we need to change the bad thinking habits for new good ones. 
"As a result of stress or a habit of being repeatedly and consistenly angry, fearful, sad, and so on, the DNA that peptides use to produce proteins will start to malfunction."
_Dr. Joe Dispenza
The thing is, there is a lot of hormonal changes that occur when we stress over something. That stress can dysregulate some of our genes and (as stated in the book) that may cause diseases. We need to take the time for ourselves, we need to learn to be in the moment not thinking about time, just you, silence and just breath. In the book, Dr. Joe Dispenza will teach you how to do that, but everything is very gut explained so you can understand it all.

Here you have a link where you can buy the book!